Our practice facilites
---
Capdepera Golf, Majorca, Spain – Situation
Click to enlarge
Our video on Capdepera Golf
Putting Green 1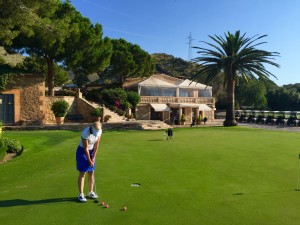 The big putting green just in front of the club house allows us to work technique, setup and gain ability to work with little slopes around the hole. There is break everywhere, but subtle and that gives us a great chance to learn to identify them. That's fantastic as they are harder to see then bigger breaks (which then obviously bear the problem of judging them correctly). It's a beautiful view with the stairs leading up to the terrace and it's all kept in stone.
Putting Green 2 – Chipping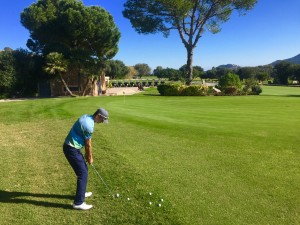 This little beauty is fantastic to work on short chips from semi-rough around the green. This just happens all the time on the course. It helps us working on lower trajectory chips, bouncing in front of the green and rolling towards the flag. With beginners we love to work on putting from the apron. Instead of using the wedge, we explore how putting some feet outside of the green works out. After all, on the course it's about having options, isn't it?
Chipping Green 1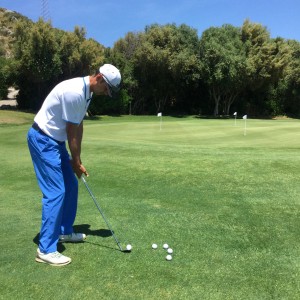 This little green next to the clubhouse has moveable flags on it. And it has a slope running across. That makes it perfect to work on uphill and downhill putts. One of the excersises we use often is one downhill putt, then one back uphill and finally a straight one. That creates a tremendous amount of doubts and the body has to constantly try to relate the last putt with the coming and trying to remember what it did last time. Awesome learning happening here.
As a natural hazard, we love to simulate difficult high shots around the green from some 10 – 20 m off the green. With every failed shot, balls have to be searched in the woods. That's just a simple game between pupils and teacher with a little added pressure. Nobody wants to be "Tiger in the Woods".
Chipping Green 2
We use this green to work on basic shot technique or changes on chip and pitches without complicating it too much. We create different situations, changing distances to the green, different clubs, ball flight options and there is plenty of room behind to fail. Understanding and self-discovery happens here. With the players that have to pass an exam, they love to practice approach shots here. Putter or Sandwedge, Pitching Wedge or 8 iron? Which one has the least option for a mistake. Let's try… we always motivate our golfers to come and practice outside of the lesson time… that is if they don't have to go to the beach of course.
Pitching Greenes 1 – 2 – 3
If we have anything, then it is space. It's just so important to have space to create exercises, vary in practice. Golfers have to learn how to use space for their practice – learn how to practice. The greens 1-2-3 help us to setup a first 20 / 40 / 75 m pitching game. Getting in the ballpark is important for beginners. With plenty of space to miss around the greens, that makes it just perfect to work on technique and try without having to fear for any possible trouble. We also use those greens to practice semi-rough approach shots around those greens from different distances.
Driving Range with mats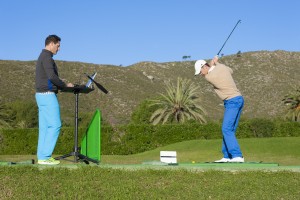 As a northern or middle european you might be used to mats. It's just an easier way for the golf course to keep cost low and maintain quality of strike. We have both. We love to use mats to simplify things for golfer that don't yet have the ability to strike perfectly or control low point. This way we can concentrate on how to move the body or the club first and then add difficulty and the mats will allow for a certain inconsistency, which in turn will help boost trust and fun. There is plenty of time to complicate things, one thing after another.
Grass tee on Driving Range
Of course, it is important and we have it. We want to work on clean impact and make golfers realize that grass is less forgivable. We also have a stripe of semi-rough just in front of the fairway cut. There is space for shots with the ball below and above the feet. We have men high mounts to simulate up and downhill shots.
This zone also includes the Pitching zone. Distance and ball flight height control is really important as they have influence on landing spot and rolling distance. We have a target post every 10 meters, laterally displaced. This gives our golfers a good reason to practice distance control everyday for 20 mins outside of the lesson time. It seems to be simple to make a difference between 30 and 50 meters, but what about the 30/40/50 and its other friends the 60/70/80 and 90?
To make use of these targets for our game time, we need corridors. We have been creative with adding those extra targets for distance control in Pitching. We use a different corridors with irons, half a green wide. So the laterally displaced targets fit perfect for that. Then with hybrids, fairway woods and Driver we use the space between the poles and the distance markers and simulate a fairway.
We added 2 more targets to the other side of the range, with flags. This way we have several options from both side of the range and plenty of targets to hit. It is important for golfers to learn how to create their own games at home. Too often I see our elderly members just hitting a bucket of balls with the 7 iron. No variations. That's a real pity.
An advantage of having a good lesson tee is that the compactness of the soil helps golfer to get confidence in controlling the low point of the swing. Also with mats golfer tend to align themselves either well or completely wrong because they sometimes don't realize that the mat aims somewhere different then where their target is. The shots become more authentic, typical aim and shot patters appear as well as typical misses.
The golf course and how we use it 
The course offers us fantastic practice and play opportunities. The first nine's are easier, straight forward, quite a lot of space to miss a shot. On the right there is always space. We use the first nine with our beginners and those who have to pass their playing ability exam for their first handicap. We can practice the driver nicely without having to trade in the mortgage to compensate for lost balls.
The second nine step up the difficulty quite a bit. Lots of lateral and frontal water hazards, valleys, up and downhill situations, long and sometimes narrow holes, blind holes with up to 120 m to reach the fairway. Well, more than one will feel intimidated by the "valley of dead balls". Haha, yes that's how we call it – with good reason, you will see.
The greens aren't too complicated, like on other courses in the region. They have different elevations, but not that steep as other courses. We have cold grass types on the course, meaning that the grass feels most comfortable when between 18 – 25º C and won't go dormant (becoming brownish) if it goes under 18º C.
In summary: we have all we need to work on your game in an efficient manner. Outside of our lesson time, the golfers can play on the course and after 15.30 there is nearly nobody playing anymore. Especially our beginners like this fact, as they won't feel stressed and have a nice 9 holes to finish the day without the feeling the Turbo golfer behind them all the time. That does have a value. A lovely dinner in the exquisite cuisine of the clubhouse can certainly finish a day in style and make it a holiday to remember.
All those advantages, and we use them to make your holiday perfect.