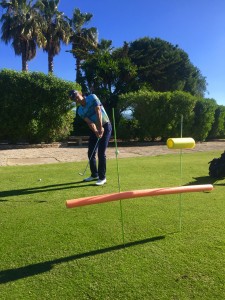 Ideal for smaller problems
Topic can vary from putt to drive
We can work on the range or course
Hi-tech in play
You will get our reduced greenfee rates for all of your play
Sign-up / request availability
Every golfer has some doubts and we are confident, that we can help you improving your game. A PGA Professional goes through extensive training and continues to develop during his career.
It is quite easy to write about a private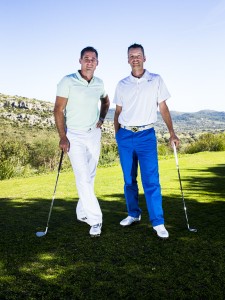 lesson, but hard not to go over the top. A golf lesson still is a moment when a simple hint or advice can solve an issue. But it can also be a moment in which change is not needed, but it's best to just enhance the skill. Better said, some golfer don't  always need a fix but need exercises to become better at what they are doing. The ball flies in a curve, that's not always a bad thing if it is consistent. If a golfer can learn to control the curve, he is much better off. But sometimes indeed it makes a lot of sense to learn why a ball does what it does and how to control it.
The knowledge that golf is a difficult sport, conditions practice. Not everybody is an elite golfer, some (if not all, but some more than others) do it for fun. Well, that makes a difference in how a lesson is approached. The other day I had a handicap 9 come for a lesson and he hit 2 putts. The rest of the hour we where only talking. Talking about something I could see was important for him. How to practice. What exercises to do to get rid off some strokes on his tournament rounds. This dedicated golfer actually needed to hear that in practice, EVERY BALL COUNTS. We did a list with important things to remember when he practices… and guess what… he went off really happy with this.
The use of technology is an important part of the lessons as well. If I have doubts about something, I want to see it in slow-motion. Or I want to know the apex of a ball flight and the launch angle and curve it had, then I need the radar to help with maximising distance. If I see that a player has issues in finding the centre of the clubface, I need to know if it is a physical, technical, material or balance problem. Therefor I need the pressure mat, the camera of an Iphone 6 with 240 fps, an Ipad with a swing analysis software and a bunch of movement screen exercises to control the degrees of mobility of a series of joints.
Sometimes a player says to me that this and that shot never work out on the course. Well, lets grab a buggy and go out there to check it out in the real situation. We are lucky work on a course where we always find a quite spot somewhere suitable.
Related link: How we use our Driving Range to improve your golf
A golf lesson is difficult to plan upfront. That's what makes it very interesting for us and we absolutely love to help you. Whatever you look for, we will be happy to assist you.
Individual lessons are 60 mins.
Pricing
1 person: 65,- €
2 persons: 80,- €
3 persons: 100,- €
4 persons: 110,- €
Not included: 14 Euros for range fee and range balls per session.
Sign-up / request availability
These articles could be interesting for you
---