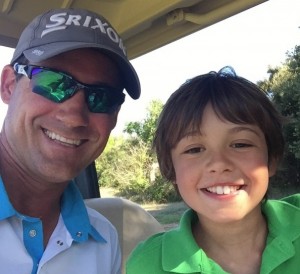 Family action during the holidays
Lessons with parents and kids together or separated
Start a sport that all can do together
In Golf we strengthen concentration and play
Get our schools greenfee discounts on all you play
Sign-up / request availability
Short summary
Spend your holidays together with your family and enjoy unforgettable moments on the golf course with your golf teaching professional. To suit all interests, we can teach the whole family at the same time, either adults and kids with separate golf instructors or all in one group.
Young kids will love our adventurous approach, grown ups will play a lot on the golf course but most important of all, we are dedicated to help each youngster in taking golf on as fun but also learn to concentrate and be serious about it in its necessary amount. Dr. Richard Bailey, a learning specialist states:
"Most elite junior sport programmes are not designed to meet children's needs but for adult ambitions."
That is exactly where we feel we want to come in with our programme. As coaches, one part of our work is to protect golfers from their expectations. It's one difficult game. Depending on the person, we can and have to adapt the format, the difficulty and structure of the exercises.
Michel is a certified TPI (Titleist Performance Institute) Junior Coach Level 2. With the knowledge obtained, we differentiate between manipulated exercises and technique, play to learn and block training as well as functional movement skills and hitting balls.
Sign-up / request availability
Pricing
As there are a several pricing options (amount of pupils, greenfees and hours) we would ask you to fill out the booking form so we can send you your tailor made price option.
Detailed description
Every family has its own dynamics. And we all know the phrase: Kids happy, parents happy. Well, we don't work like that. We want it to be perfect for both. For this, we have seen over the years (it's not 20 years of teaching), that some families prefer to stay together during the lessons and others like to separate kids and adults. The second option has its validity, as kids do progress with a slightly different way of teaching. For this, we recommend that kids get separated, if they are not 14 years of age.
On the other side, some families want to spend the time together and the golfing is "more" of an fun activity then a sport to be taken too serious. That leads us to tweak the format a little, as one coach can't be with everybody at the same time. The activities we create then are more playing and game approaches. We manipulate exercises to create movement solutions in a guided self-discovery way.
The kids have less concentration time, need more breaks between brain active learning sessions. So we give the kids what they need and then hit them hard with golf orientated coordination again.
We have had great success with taking kids and the clubs to the forest within the golf course boundaries. They learn the importance of precision quickly, see different ball flights and have to intensify their imagination and attention on where the ball could have gone, if they don't want to loose it between the bushes.
On the other side are the adults. To make them grow witouth the kids being present, we go proven ways. The course structure isn't different to a beginners or an advanced handicap course.
Timewise we work with kids and adults at the same time. Sometimes we might even stand next to each other and practice the same shots, just in a different way. Rest assured, security is our biggest concern when working with clubs and balls that fly.
Related link: How we use our practice facilities to improve your game
That's why we ask you to fill out the booking form and let us know your priorities and wishes. We can adapt and work towards your goal.
And of course prices depend on how many teachers are working and how many hours we do. That's why it is difficult to make a price scheme without knowing the facts. Just shoot us an email and we get back to you without obligations.
We hope to have you with us for a unforgettable golf holidays.
Research shows, there are certain things you should say to your kids before they have competitions. It has to do with expectations, managing emotions and connecting the tough sport experience with an awesome experience. 99 % of kids don't need to train for the Olympic Games, so let's keep our expectations back and give the kids play time.
Before competitions, use these words:
Go and have fun
Play hard
I love you
And after competitions you can say:
Did you have fun?
I'm proud of you!
I love you!
A great sentence for parents is also:
I love to watch you play!
These articles could be interesting for you
---