Welcome to our golf school in Majorca
---
It is not our job to show you how much we know about Golf, but rather how Golf can be easier for you.
Looking for a school to improve either technique,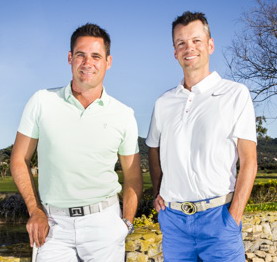 learn how to play on the course or get a quick insight on how to avoid 3-putting?
Our golf school provides modern teaching methods and training aids. Video-analysis during classes is standard. Emphasis is placed on building up a golf swing that is repeatable and consistent. Michel has specialized in Putting Instruction, being able to offer you the most in-depth putting analysis you have probably seen.
You can opt for working on your ball flight, get your short game sorted, enhance your knowledge about the rules of golf, add mental exercises to your practice and most importantly improve your game out on the golf course.
Our instructional programme is taught on 5 different golf courses on the island. Weekly courses are very popular with visiting guests. Daily 3 hour sessions combine practice on the range with on-course playing lessons.
We can also fit a full set of golf clubs and a putter to you, help you choose the right Wedges and make sure your gear is up to your standard.
We look forward to receiving your request and hopefully we'll enjoy lesson time together soon.
Welcome to our website.
Michel Monnard and Tobias Widmer
PGA Professionals