What else can you explore during your holidays in the north east of Majorca
---
When you plan a holiday, you want to know what you can do beside golf to make your holiday a perfect one. With the below tipps, your social media account will burst of likes, promised. But after all, your holidays are the time to do what you normally can't do. And here you can, trust me!
Here our insights:
Diving and Surfing
In the closer area we have about 5 – 6 diving schools that do boat trips around the north-eastern area. There is one Surf school in the area that also rents the boards.
Sightseeing with the car
The quality of the roads is awesome. So you absolutely should plan in a few trips if you haven't already done them. When you arrive, let us know your interested in sightseeing by car, we can gladly help with that. Especially the inside part in spring is awesome, some mountain and beach roads are nice too.
Hiking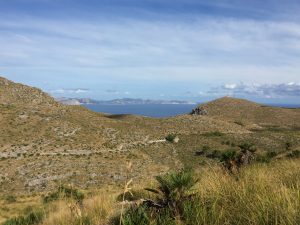 Oh well, if you like hiking, then this is the place to be. We have the natural park Llevant just on the golf club out of bounce starting. There are indicated hiking routes through nature and along the coast line. Also the island is quite small, you can see different areas with just 45 mins of driving. Combine a 2 – 3 hours easy hike and a dinner on the beautiful coastline.
Here a link for hiking routes.
Visiting markets
Most villages have their own weekly markets. Some are more food orientated, some have local handcraft for sale.
Beaches
Majorca is a beach paradise. Only in our area, we have 10 beaches within 15 driving minutes. For more private areas along the coastline, just ask us.
Bike and motorbike renting
If you like it the sporty way, hire a bike. Majorca is mountain- and road biking paradise. Especially the northern area close to the mountains is king. We prefer a nice motorbike. We both own an easy driving Burgman and we love to do road trips.
Our favorite road is the Ma-3333, which leaves Arta direction Monastery of Betlem.
Here Tobias with his Suzuki 400.
Castle of Capdepera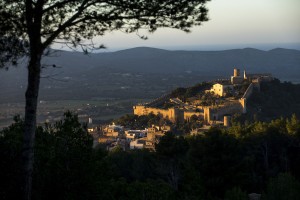 It takes about 45 mins to visit the castle of Capdepera and enjoy the view. After that have dinner at the Plaza of Capdepera, it's something we do frequently and has a nice atmosphere.
Here as seen from the hill opposite the castle.
SUP trip
Stand-up paddle is very in with locals. It allows to get to coastal areas where you can't get with swimming. The bigger surfboard and a double paddle are easy to use, all tough you will train core, legs and arms in a good way.
Call Malen on +34 636 606 379 to arrange all material and a nice 1 or 2 hour trip. One of our favorite, as it is highly personal and no tourists do this ever.
Spa sessions
After a long day of golf we recommend a little Spa visit. Also when the weather is on the bad side, then this is a good thing to do. Our favorite: The Spa of the Hotel S'Entrador Playa in Cala Ratjada. Looks good, smells good, is good.
If you look for treatments, don't look any further than the Hyatt Spa in Canyamel. They have a great programme with all kinds of treatments.
Testing wine
Mallorquin wines have made such a huge jump in quality in recent years. No wonder, local restaurants started ordering as soon as local wine was available. Of course guests want to try the local juice.
Our favorites:
Red – Miguel Gelabert – Gran Vinyes Son Caules
White – Jose L. Ferrer – Blanc de Blancs
Some wine estates offer food, shops and tours. Let us know if you want to have a go.
Rent a boat with captain and try the Seabobs
Well that's the best of all of the adventures, and the most expensive as well. We rented a 30 foot yacht and the owner is the sales rep of the Sea Bobs, some kind of 007 underwater torpedos, which even 5 year old can maneuver without problems. Oh boy was that fun.
Call Robin, +34 722 264 711 (Email: robin@seabobbase.com) around 1000 Euro for up to 10 persons per boat. Times after 13.00 until open end. Includes plenty of drinks. Leaving from the harbour Cala Ratjada.
Ballon "driving"
Starting in Manacor, in the easterly middle of the island, the ballon company starts in the mornings and evenings. Please be lucky and have a clear view out to Menorca, then this is an awesome experience and will make for awesome social media images to make your friends back home jealous… well… yeah that's fun to do!
Boccia and Tennis
The Tennis Club and Restaurant Son Beso have 13 tennis courts and 2 Boccia lanes. Elderly locals love it. With kids I guess thats a great 2 hour fun thing to do. After that have lunch at the restaurant and let the kids wheel around the house without having to worry about them. Ahhh, it's actually holiday time for you too.
Kayak tours
Some diving centers rent kayaks as well. And let me tell you this: it's honestly a quality time to go out early in the morning with the sun on a low position just heating enough to not boil. Paddle along the coastline, stop have a dip and continue. That's just so much fun.
Of course there are more things to do, we will constantly add new stuff for you.
Sport – Physiotherapy
During a Golf Instruction week, we have sometimes more strain on the body, as we play everyday. If you need a bit of help with tight muscles or have pain during the week, we have a swiss couple that helps us. Physiotherapy Llum is in Capdepera.
Book an apointment on +34 971 819 308 or let us know during the week and we book it for you.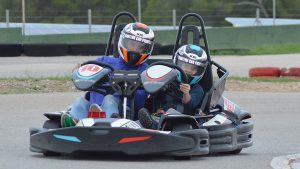 Karting 
The best go-cart ride you can get just 25 mins from us in Can Picafort. With carts for all levels – from kids to professionals, you can have a adrenaline rushing afternoon. Here Michel and his daughter.